Book Reviews
Literature specifically on the subject of 1/72 scale plastic Napoleonic figures is few and far between. However, there are an enormous number of books on the history of the Napoleonic Wars, as well as quite a few on the subject of wargaming. I have listed below (sorted by category) some books I have read which have some relevance to the subject.

I am currently reading "The Flintlock Musket - Brown Bess and Charleville 1715-1865 (Osprey Weapon 44) by Stuart Reid. The review will be posted soon.
Latest review added: Man of War - The Fighting Life of Admiral James Saumarez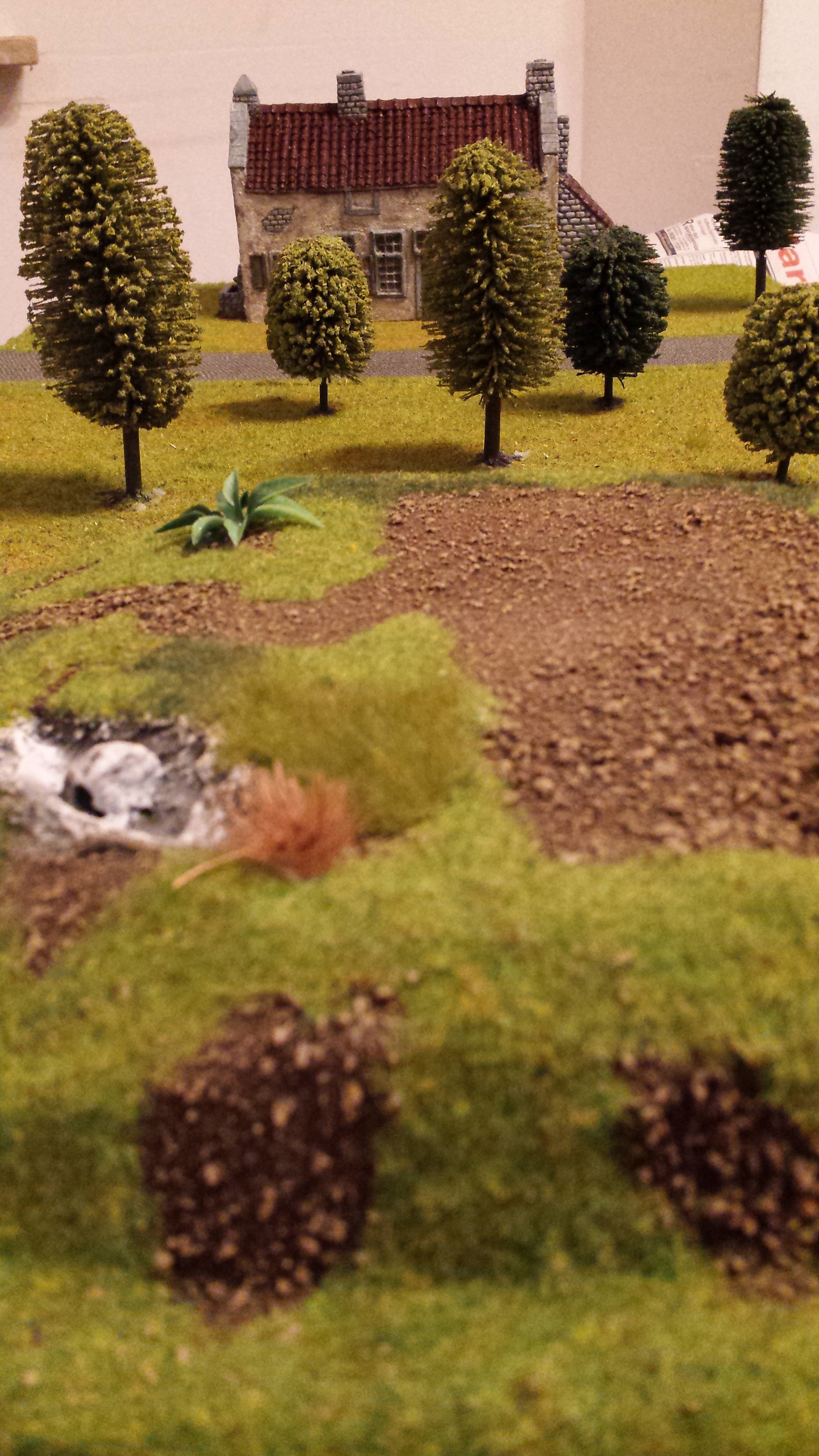 French Revolution and Revolutionary Wars
General Histories of the Napoleonic Wars
The Napoleonic Wars
by Gregory Fremont-Barnes & Todd Fisher (Osprey Essential Histories Specials 4)
Generals
: Ten British Commanders Who Shaped the World
by Mark Urban


Th

e Forgotten War Against Napoleon - Conflict in the Mediterranean 1793-1815

by Gareth Glover
The 1805 Campaign - Austerlitz
The 1806 Campaign - Jena & Auerstädt
Jena 1806 - Napoleon destroys Prussia
by David Chandler (Osprey Campaign 20)
The 1807 Campaign - Eylau - Friedland
Napoleon's Polish Gamble: Eylau and Friedland 1807 (Campaign Chronicles) by Christopher Summerville.
The Peninsular War
A History of the Peninsular War - Volume VII, August 1813 to April 14 1814 by Sir Charles Oman
Wellington's Army, 1809 - 1814 by Sir Charles Oman

Peter Hofschr

öer

Memoirs & Biographies

Napoleon - The Path to Power 1769-1799 by Philip Dwyer

Napoleon & Wellington

by Andrew Roberts

Regimental Histories

The Life Guards by R.J.T. Hills

Wargaming

Modelling

Osprey New Vanguard

Napoleon's Guns 1792 - 1815 (2) - Heavy and Siege Artillery by René Chartrand

Osprey Elite

Osprey Men-at-Arms

153 - Napoleon's Guard Infantry (1) by Philip Haythornthwaite 389 - Napoleon's Red Lancers by Ronald Pawly

444 - Napoleon's Mounted Chasseurs of the Imperial Guard

by Ronald Pawly

456 - Mounted Grenadiers of the Imperial Guard

by Ronald Pawly

496 - The Prussian Army of the Lower Rhine 1815

by Peter Hofschröer

Man of War - The Fighting Life of Admiral James Saumarez

Anthony Sullivan

ISBN:

978-1-52670-651-5


James Saumarez' career in the Royal Navy began before the outbreak of the American Revolutionary War, and only came to an end more than a decade after the Napoleonic Wars had ended. From an early stage in that long career, he established a reputation for reliability, excellent seamanship, and

–

a rare trait amongst seamen

–

diplomacy.
In this biography, Anthony Sullivan not only describes the many twists and turns in Saumarez' naval career, but also provides an insight into his family life and relationship with the people of Guernsey, his birthplace.
The fleet actions in which Saumarez was involved will for the most part already be well known to many readers, for instance the Battle of the Saintes during the American Revolutionary War or the Battles of Cape St. Vincent, the Nile and Algeciras during the French Revolutionary Wars.
Even the action which was arguably represents his finest hour, the capture of the frigate Reunion, is well documented by other authors.
It is more unusual to read details of the daily routine during the blockades of Cadiz and Brest. It might be expected that these periods would simply consist of long weeks of boredom, however, as the author shows, there was actually constant activity, with the ships of the blockading fleet coming and going for refitting or provisioning, and the need to find shelter from or run before the many storms which threatened to destroy even the most robust ships.
As well as conveying this level of detail, the author lends character to the narrative by using the appropriate nautical terms when describing the handling of the ships. Some readers might have found a glossary useful, though.
The book contains only one illustration, a full-length portrait of Saumarez, actually the same illustration used on the dust jacket, though there are also several maps and diagrams which accompany the descriptions of the naval actions.


Illustrations of the ships Saumarez commanded, or the actions in which he participated, would also have been welcome. On the other hand, paintings of naval actions tend to have such large proportions that after reduction to the size of a book page, it is sometimes almost impossible to make out any details.


Unfortunately, this book is let down by the unusually large number of typos. These are mostly not misspellings, but duplicated or missing words, and having to reread these sentences to work out the meaning becomes irritating after a while.
Saumarez' diplomacy when dealing with Sweden and Russia during the Baltic campaign, which eventually led to his receiving a Swedish knighthood, is also well described by the author, and is a good example of the amount of research which has gone into this book.
This biography will take its deserved place alongside biographies of Nelson, Collingwood, St. Vincent and Sidney Smith.




The Forgotten War Against Napoleon - Conflict in the Mediterranean 1793-1815

Gareth Glover

ISBN:

978-1-47383-395-1


The term "Napoleonic Warfare" generally conjures up images of colossal armies executing grand manoeuvres over vast swathes of countryside. Although the perception of Naval Warfare in the same era is likewise of large-scale battles, in this case it involves dozens of line-of-battle ships pounding each other to matchwood. It's fairly rare to encounter illustrations of combined land and sea operations during the Napoleonic era, and it seems that the majority of military history enthusiasts prefer to focus on either one area or the other.
The reality, of course, was that army and naval forces often operated hand-in-hand, though most often only a few thousand troops and a handful of smaller warships or troopships would have been involved. These combined-forces operations occurred especially often in the Mediterranean theatre, where troops could only be moved from one location to another by ship, and also because the complement of marines on the ships often wasn't sufficient to capture and occupy islands or coastal towns without the support of land forces. As the author of this book points out, the necessity for the land forces to interact closely with the navy led to a degree of independence which army commanders rarely, if ever, experienced under Wellington in Spain.
Starting with the French Revolutionary Wars, the author recounts in chronological order the various actions which took place in the Mediterranean until the end of the Napoleonic era, and also includes the campaign against the Barbary pirates in 1816.
For the most part, each incident is covered in a concise manner, without embellishment by superfluous detail. This approach results in bite-sized chunks (the book has 56 chapters in just over 250 pages), where the action flits from location to location, accurately conveying the impression of the forces involved, which were normally overstretched, moving backwards and forwards across the theatre, often in vain, with plans being cancelled due to new developments like changes in the political situation.
The majority of the chapters include accompanying maps of the area under discussion, and there are also eight pages of colour plates.
This book provides a well-researched overview of the numerous actions in the Mediterranean during the period, ranging across Eastern Spain, the South of France, Italy, the Adriatic coastline, North Africa, Egypt, the border regions of the Russian and Ottoman empires.
The reader will be inspired to study more extensively those conflicts which have been covered in wider detail by other authors, for instance the Siege of Toulon, the French Expedition to Egypt and Syria, the French invasion of Eastern Spain, the Russo-Turkish War and the Battle of Maida. More ambitious readers may even be inspired to research and produce works on the conflicts which have been less well known or documented, like those involving Dalmatia and the Adriatic coast or the Kingdom of the Two Sicilies.









ISBN:

978-1-47280-589-8


Every once in a while, a book on Waterloo comes along, which stands out from the multitude already available. Of course, the details of the battle and the campaign itself are so well known that very little new information is likely to appear.
What makes this book unusual is that isn't actually new; in fact it's a facsimile reproduction of a book that was first published only a few months after the battle. As such, it would have been one of the first publications to provide detailed information to an eager public, and one can imagine while reading it the suspense with which those readers would have turned each page.
At the time, this book was so popular that, over the course of the following months, further editions appeared, each of which included new information which had come to light in the meantime; this facsimile version is actually of the seventh edition, and the additional text passages are evident in the mixture of font types and sizes throughout the book, which also adds to the authentic feel.
The first part of this book is fairly conventional, containing

a relatively short description of the campaign, as well as numerous eyewitness accounts. In fact, the highlight of this part is not the text, but a fold-out 360 degree panorama of the battlefield (although not showing the actual battle). Fold-out plans of the battle and of the campaign are also included in this part.


The third part of the book is also relatively typical, listing the British officers killed and wounded, the number of British and Hanoverian (i.e. KGL) losses by regiment, as well as a brief biography of the Duke of Wellington, but also containing a list of promotions and decorations awarded after the campaign, biographical notes on the senior officers and other notable personages killed during the campaign, as well as the text of a couple of commemorative inscriptions from the church in Waterloo.
The second part of the book starts with several official reports on the battle by the various nationalities involved, including Dutch, Prussian and Hanoverian, as well as from those that had observers in the allied camp, like Spain, Russia and Austria. These reports are interesting enough, however it's the rest of this second part of the book which really makes the book worthwhile.
The way in which this book evolved, by adding any information which came to hand, has resulted in a treasure trove of miscellany, such as a letter from Earl Bathurst to the Lords of the Admiralty containing instructions on how "General Bonaparte" should be treated while in their care, a letter from Davout, then Minister for War, to Wellington and Blücher, informing them of Napoleon's abdication, a letter from Wellington to Bathurst, announcing the surrender of Paris and enclosing the text of the Convention of St. Cloud, Ney's campaign report to Fouché, and many other gems.
For these alone, the book is worth having, and the unexpected nature of these random additions is an added bonus.






ISBN:

978-1-47385-695-0


To produce a biography of one of history's peripheral figures requires detective work as much as writing talent. In the case of John Pitt, the biographer has to deal with an extra dimension of complexity. The challenge is to provide an objective portrait of someone, who, as the son of William Pitt the Elder and older brother of William Pitt the Younger, found his life constantly overshadowed by, and unfavourably compared to, his more renowned relatives.
Jacqueline Reiter has succeeded in combining the detective work, the objectivity and the writing talent, in the process creating a book which is as remarkable for its attention to detail as for its impartiality.
While agreeing that Chatham's career was constrained by the success of his relatives, the author also recognises his shortcomings – or at the very least, lack of inspiration – especially in the political positions he held, such as First Lord of the Admiralty and Master-General of the Ordnance.
An early example of the detrimental effect of his father's standing on John Pitt's career occurred when he was serving as a young ADC in Quebec at the outbreak of the American Revolutionary War. Rather than serve against the Colonies, he was forced by family pressure to return to England, in order not to compromise his father's political career, as Pitt the Elder had outspokenly supported American independence.
His brother William's political prominence also negatively influenced Chatham's career. Although Chatham acquitted himself well as a brigade commander in the Anglo-Russian expedition to the Helder in 1799, he was wounded in the process. Afterwards, he was kept from active service, because in case of his death, his brother William would have succeeded to the earldom, and been required to take up the family seat in the House of Lords.
It was only after William's death that Chatham was considered again to serve overseas. As commander of the disastrous Walcheren expedition, though, he was apportioned the majority of the blame, effectively putting an end to both his military and his political career. In fact, the finger of blame was only pointed in Chatham's direction after he attempted to highlight the navy's failure to complete their role of the mission, which has contributed as much to the failure of the expedition as bad planning on the part of the War Office. While pointing out the injustice of the inquiry's conclusions, the author doesn't try to conceal the fact that a more experienced or even more enterprising commander might have made more of the situation, rather than floundering once the original plan started to go awry. Of course, if it hadn't been for his family, Chatham might have had the military experience to deal with the changed circumstances.
Chatham's personal life is also described in some detail. A recurring theme over several decades was his wife's struggle with mental illness. His personal and professional relationship with his brother William, as well as his money woes are also recounted.
In addition to being well written, this book is meticulously researched. One example is that the author consulted the logbooks of the ships which took Chatham to and from Gibraltar, where he served as Governor, and quote details like the time Chatham arrived on board, and the duration of the journey. While not essential to the biography, this type of detail adds atmosphere to the narrative.
One point of note is that in the first chapter, the author refers to John Pitt as "Pitt" (due to his courtesy title at the time being Viscount Pitt), and refers to his father, as was the custom at the time, as "Chatham" (being the First Earl of Chatham). After his father died, John Pitt became Second Earl of Chatham, so for the rest of the book, the author refers to him as "Chatham", and refers to William Pitt (the Younger) as "Pitt".
The book includes 3 maps – of the Helder, Walcheren and Gibraltar regions –, 16 pages of black-and-white illustrations, an index, an extensive bibliography, and copious source notes.
Although Chatham's army service is discussed, the expeditions in which he participated are not examined at the level of detail of a purely military history. The political events are related in much more depth, and the book provides a very interesting portrayal of the politics and politicians, as well as the British nobility, during the latter part of the Georgian era.






ISBN:

978-1-84832-841-9


A note from the author, included in the Index of Names of Persons at the back of this book, states that he hasn't attempted to index the names Napoleon and Daumesnil because the book is essentially about the two of them. Certainly, the relationship between these two men is the main theme of the book, but to say that it's restricted to that single topic would be to do both the author and the book an injustice.
Pierre Daumesnil served close to Napoleon in all of his campaigns from Italy in 1797 up until Wagram, however Daumesnil's military career spanned a much wider period, from the Revolutionary Wars via the Consulate, the Empire, the First Restoration, the Hundred Days and the Second Restoration to the July Monarchy.
In fact, the chapters of the book describing the period when Daumesnil served in closest proximity to Napoleon are probably the least enlightening, simply because Napoleon's movements and actions have already been studied and documented in minute detail by so many other authors. In order to recount Daumesnil's biography, it was of course necessary to recap the background to these campaigns, even though most readers will already be familiar with them to some extent. The author has at least only described those battles where the Chasseurs à Cheval de la Garde were present.
The chapter which describes Daumesnil's service in the Army of the Eastern Pyrenees between 1793 and 1795 covers a period less well known to many military history devotees. Similarly, the blockades of Vincennes in 1814 and 1815 after the occupation of Paris by the Allies, and the events that really brought Daumesnil to the attention of the general public, occurred during periods which have been relatively neglected by historians. The paranoia among the Bourbon followers about possible conspiracies by Napoleonic supporters, which lasted for many years after the second restoration, is an interesting topic touched on in the book, as is the July Revolution.
Writing a biography of someone that neither wrote their memoirs nor kept a diary would be very difficult, but luckily Daumesnil's wife kept a journal, and many anecdotes about Daumesnil's exploits during this epoch have also appeared in other memoirs. In addition, the author acknowledges the collaboration of Henri de Clairval, a direct descendant of Daumesnil, who himself wrote a French-language biography of his famous ancestor.
The book includes several annexes:
A. Daumesnil's Service Record
B. Bonaparte's Proclamation to the Army of Italy
(the proclamation of May 1796 following the conclusion with Sardinia of the Armistice of Cherasco)
C: Convention of Paris
(usually known as the Convention of St. Cloud, the military convention under which the French Army evacuated its forces from Paris in July 1815)
D: Blücher vs. Wellington re Napoleon's Fate
(several letters sent between 27 and 29 June 1815, from Gneisenau, Blücher's Chief of Staff, to Müffling, principal liaison officer at Wellington's headquarters, instructing von Müffling to use his influence with the British to have Napoleon handed over to the Prussians)
E: The "Address" of 23 March 1815
(a text written by Daumesnil, then commander of the fortified town of Condé sur l'Escaut, addressed to the Emperor on behalf of the officers and men of the 42nd Line Infantry Regiment, who were garrisoning Condé at the time).
In addition to the Index of Names of Persons already mentioned, the book includes a Bibliography, 8 colour plates, 16 pages of black and white illustrations and, unusually, two pages of Notes on the Illustrations, where the author provides additional comments on the illustrations.
The book is generally well researched, although there are some minor factual errors (e.g. the author dates the Battle of the Nile as 31st July 1798, whereas it took place on 1st August; there are several references to the Battle of "Heilsburg" in 1807, whereas the correct spelling is "Heilsberg").
As mentioned, despite its title and despite Daumesnil's devotion to Napoleon, the best reason to buy this book is for the many interesting details in the passages which take place when the two men aren't in close proximity to each other. The author is to be commended for avoiding the temptation to simply rehash previously available material under a different viewpoint, instead providing the reader with fresh or at least less well known information on the period and some of the people that helped to shape it.






ISBN:

978-1-78096-102-6


Following on from the volume on Heavy Cavalry Tactics, this book presents the tactics used by hussars, chasseurs, light dragoons and lancers, as well as, more briefly, Mamelukes and Cossacks.
Before discussing their tactics, the author traces the development of light cavalry in the century prior to the Napoleonic era, explaining why the need for a light horseman arose, and how various nations responded to this need.
Since the organisation of heavy and light cavalry squadrons was very similar during the Napoleonic era, the author refers the reader to the book on heavy cavalry rather than repeating the information here.
As usual for this series, there are several plates and illustrations explaining how light cavalry deployed, how it redeployed between various formations, and describing the tactics used in different combat situations.
In contrast to heavy cavalry, light cavalry was employed in many tasks beyond those of the battlefield, for instance reconnaissance, outposts, vedettes and skirmishing, and the author discusses these tasks in some detail.
In addition to the full-page plates already mentioned, the book includes numerous colour and black-and-white illustrations which have been suitably chosen to show the many uses of light cavalry.
A Select Bibliography, Source Notes and an Index complete this well-researched and concisely-written addition to the "Tactics" volumes of Osprey's Elite series.






ISBN:

978-1-84832-834-1




Considering the enormous amount of attention the Waterloo campaign has received in print, it's surprising that the events preceding the campaign have been practically ignored by English-language authors.




Military historians may be deterred by the fact that Napoleon's return to power was a practically bloodless affair, however it certainly wasn't without drama, as shown by Paul Britten Austin in this well-written work, reissued under the Frontline Books imprint.




From the first day of the "adventure", where the situation at Antibes threatened to degenerate into farce, to the arduous trek through the mountains to Grenoble, to the march on Paris in the face of the royalist army's attempt to concentrate in defence of the capital, the outcome was far from a foregone conclusion.




The first chapter describes the landing at Antibes, however this isn't where the story begins, and so the second chapter describes Napoleon's time on Elba in a type of flashback style. The reasons for the return to France, the decision to do so and the subsequent preparations are described in some detail.




The narrative is written in the present tense, which is unusual, however this adds an extra dynamic to the account. What takes more getting used to, though, is that the author places himself, as narrator, in the timeframe of the story, so that events which had taken place recently to the narrative are referred to as having occurred e.g. "yesterday", "last week", etc.




The author uses only eyewitness accounts of the events. Many of these eyewitnesses were also sources for the author's 1812 trilogy, so anyone that has already read those books will recognise many of the names. There are also many accounts by ordinary citizens along the route, not just the soldiers and politicians involved.


Of course, Ney's defection is the best known, but practically every soldier and politician in France was faced with the same dilemma. The decisions and actions at the court of Louis XVIII, as well as of the main

military and political leaders are discussed by the author, especially in the case of Oudinot, Fouché, Macdonald and Marmont. However there are also numerous accounts from lesser-known individuals such as Lieutenant Rilliet of the Cuirassiers of Louis XVIII's Guard and Count Lavalette, the retired Postmaster General.


Ney's intention to carry out the King's orders, and his anguish over the decision to follow his troops' wish to desert to the "usurper" are recounted, making good use of Ney's testimony from his trial after the second restoration.




The book is very well researched, as witnessed by the extensive notes, and also well written. This version is a high quality hardback with dust cover and includes five maps and twenty-seven black-and-white illustrations.






ISBN: 978-1855329942

In this volume of the Campaign series, Hofschröer puts forward the argument that even though the Russian campaign had ended disastrously, at the beginning of 1813 French control of central Europe was unbroken. It was only by continuing the struggle, forming a new coalition with Prussia, that the momentum of 1812 was sustained. Had Napoleon managed to check the Allies' advance, driven the Russians back to their border and defeated the Prussians, then it is unlikely that Austria would have taken up arms against France in the Autumn of 1813.
There are many events which have been labelled as the turning point in the struggle against Napoleon - Dupont's surrender at Bailén, the Battle of Aspern-Essling, the retreat from Moscow and the Battle of Leipzig, to name just a few. The claim for L

ützen and Bautzen is based on the

fact that the Prussian and Russian forces were able to force an armistice rather than ending the campaign in defeat. After the armistice had ended, the coalition forces were joined by the Austrians, tipping the balance in the favour of the Allies and effectively ending Napoleon's chances of holding the German territiries.
The manouvres up to the battles, as well as the battles themselves, are described in detail, accompanied by maps of the manoeuvres leading up to and in the aftermath of the battles, as well as by 3-D maps of the battlefields.
This book faithfully follows the formula for Campaign volumes: an introduction discussing the background to the campaign, a chronology of the campaign, a section on the opposing armies and commanders, a section on the battles themselves, a discussion of the aftermath, and a (brief) section on the battlefields today.
The text is accompanied by numerous black-and white and colour illustrations, including portraits of the opposing commanders, as well as an index, a - very short - bibliography, orders of battle for both battles, and some black-and-white photographs illustrating key areas of the battlefield today.




The Prussian Army of the Lower Rhine 1815

ISBN: 978-1782006176

I have to admit I'm amazed that the title of this book isn't "Bl

ücher's Army at Waterloo" or something similar, as such keywords seem to be almost compulsory these days for books on the Napoleonic period. Instead, it

has been given a more sober and businesslike title, for which the author and/or series editor

deserve praise. This no-nonsense approach is generally also followed in the book itself

.
As usual for a Men at Arms title, the organisation, uniforms, tactics and combat history of the troops are described, however as the author has already written a number of other books on the Prussian Army of this period, he refers the reader to those titles for the basic information rather than simply rehashing it here.
Instead of describing the regulation uniform, he therefore concentrates on the variations from that regulation. These variations were principally due to financial and logistic problems rather than intentional disobedience of the regulations. Even so, the sheer amount of information requires the font used in this section of the book to be smaller than normal.
The Prussian Army of the Lower Rhine is probably the most famous Prussian Army of the Napoleonic Wars - the Prussian Army of Ligny, Wavre, Waterloo and the advance on Paris - even though the Army's offical title is not as well known as its feats. As well as the Army of the Lower Rhine, this book covers the North German Federal Army Corps, as that Corps also came under Blücher's command when its commander, Kleist von Nollendorf, fell ill in June. On the subject of Blücher, Hofschröer leaves the reader in no doubt that he considers him to have merely been a figurehead for the army, and that command was effectively in the hands of his chief of staff, Neidhardt von Gneisenau.
The book includes an order of battle for the Army of the Lower Rhine at Waterloo and Wavre as well as for the North German Federal Army Corps. In addition, there are eight colour uniform plates and numerous black and white illustrations, mostly of uniforms, but also several illustrations of the Prussian commanders. Some maps of the campaign and the battles are included; one of these is actually a plan showing the original troop dispositions on Siborne's Large Waterloo Model.
Prussian tactics at brigade level are described

first in theory

and then in practice, taking as examples the actual dispositions of two brigades at Ligny.
The army's combat history is described in considerable detail. In fact the description of the army's troop movements leading up to and at Ligny, Waterloo and Wavre is practically a mini "Campaign" title in itself.
Hofschröer has always been very vocal in promoting the Prussian Army's contribution to the Waterloo campaign, which in his opinion to this day remains underrated. In fact, in the last couple of decades this situation has largely been redressed - at least among historians; it's doubtful whether the english-speaking general public will ever be persuaded that Waterloo wasn't just a showdown between Wellington and Napoleon.
In any case, the use of phrases such as "played the major role in the defeat of Napoleon", "decided the outcome of Waterloo", "the decisive action of the battle - the capture of Plancenoit", and especially "Anglophone mythology" are more likely to be detrimental than beneficial to the author

's cause.




On the other hand, it is this passion for the subject, this intimate knowledge of the Prussian Army's organisation, strategy, tactics, uniforms and leadership which makes this book not just very readable, but also enormously informative.




- Wellington invades France -

ISBN: 978-1472802774

The French Army of Spain which Marshal Soult inherited from Jourdan and Joseph following the debacle at Vitoria was a force in disarray. Outnumbered, demoralised and on the verge of disintegration, it nevertheless rallied under its new commander, regaining sufficient cohesion to effect a fighting retreat, with Soult even switching to the offensive whenever the opportunity arose.
Eventually, though, Wellington's forces drove the French back across the Pyrenees into southern France, and started a slow, steady advance northwards. This advance was brought to a premature halt by the armistice which followed news of Napoleon's abdication. The news took some days to reach Soult's forces, so a number of actions actually took place after the abdication.
This book covers the last phase of the Peninsular War, from the aftermath of Vitoria up until the armistice, describing not just the combats which took place, but also the movements of both sides as Soult and Wellington attempted to outmanoeuvre each other, the former attempting to stem the allied advance, the latter to outflank his opponent and force him to continue his withdrawal.
In the author's note at the front of the book, Lipscombe remarks that he found it difficult to condense the description of the campaign into the short amount of space available. However, he has managed to do this effectively enough to convey to the reader in a clear, well-written manner the overall picture of the campaign.
The overall result is a very good book, which when it takes its place among the other Peninsular War titles in the Osprey Campaign series provides a fitting conclusion to those volumes.
Lipscombe is an expert on the Peninsular War, so the historical information, though condensed, has retained its accuracy. For those who would like more detail on the campaign than mentioned in the book, a list of recommended titles for further reading is provided.
As usually with the Osprey Campaign series, the text is accompanied by an enormous amount of visual material: 2D and 3D maps, colour illustrations, specially-commissioned colour plates, black and white illustrations, as well as colour photos of the battlefields today. The many photos of the present day (I counted forty-one) will be especially useful for anyone who wishes to personally follow the course of the campaign.
Again in keeping with the Campaign series, this book includes a chronology, an index and orders of battle for the Allied and French armies for July/August 1813 and for the Battle of Toulouse.
Generally, the picture captions provide additional information rather than just rehashing the text which the pictures accompany, however a paragraph from Napier which is quoted in the text, taking up about a third of a page, is repeated in full in the caption to one of the colour plates. In addition, the third page of the chronology is blank except for five lines of text. In total, therefore, one further full page of text could have easily been accommodated.
A study such as this, which describes convoluted movements of bodies of troops, must be very difficult to proof read, however I didn't notice any really glaring mistakes. There are a few typos and minor grammatical errors, and in one case, East and West are mixed up. There are also a couple of instances of inconsistent spelling of place names, however only the most pedantic reader will find these minor points irritating.
One very positive point is that in the section on the opposing commanders, rather than just trotting out the usual stock portraits of the participants, lesser known portraits are used.
I was, however, surprised to see the author acclaim Wellington's expertise in interweaving all branches of the army, even though Lipscombe himself has recently authored a book describing the fraught relationship between Wellington and the artillery commanders.
One of my pet gripes with Osprey's Campaign series is that the titles are named after the climactic battle, even though they actually cover the complete campaign. The battle which lends its name to the book's title thus often receives relatively few pages of attention. In the case of this book, the investment of Bayonne and the Battle of Toulouse took place in February and April 1814 respectively, though the book's title mentions them together with the years 1813 and 1814. They were also not climactic events in the normal sense, as they of themselves didn't end the campaign, though of course the presence of the allied troops in southern France obviously contributed to the general demoralised state of the French nation. I would certainly rate the Battles of Nivelle and the Nive as at least equally important as Bayonne and Toulouse, and thus equally worthy of mention in the book's title.
Devotees of Napoleonic history tend to gravitate towards one of two main camps, the "Napoleon camp" or the "Wellington camp". This is not to suggest that there is a bias in the recounting of history, but there are definitely authors and readers whose main area of interest is the campaigns and battles in which Napoleon was involved, and others whose main area of interest is the campaigns and battles in which Wellington participated. Of course, it's not quite a case of "never the twain shall meet" - Waterloo saw to that - however there is a definite schism among devotees of Napoleonic military history.
This volume will not interest the "Napoleon camp" much - there isn't a single picture of Napoleon in the book! Also, they would probably take issue with the author's reference to Vandamme's surrender at Kulm (in fact, at Kulm Vandamme managed to extract the majority of his troops from a desperate situation, though he was captured in the process).
In contrast, the "Wellington camp" is well served here, especially since within that camp, the Peninsular War is by far the greatest area of interest. Although this volume will please those aficionados, it may also cause some regret, as the Peninsular War is brought to a close.
As mentioned, this volume is a worthy addition to the previous Peninsular War titles in the Campaign series. The books in that series are worth buying just for the wealth of pictures, maps, etc. which accompany the text. I would go so far as to say that the visual presentation in this volume is above average for the series, and together with the well-written description of events, results in an investment worth every penny.

Mark Urban

ISBN: 978-0571216819

One of my criticisms of Urban's earlier offering The Man Who Broke Napoleon's Codes was that much of that book was padded out with a rehash of the history of the Peninsular War, including various battles and sieges in which the subject, George Scovell, didn't even participate.
In contrast,"Rifles" covers only those events in which the 1/95th actually took part. In fact, the other two battalions of the regiment only merit a mention if they took part in the same action as the first battalion.
In the process of recounting the first battalion's story, the author also relates the experiences of a handful of men from this battalion: officers, NCOs and privates, some of whom were wounded or killed during the war. Many quotes from previously published first-hand accounts are used, some of which, like Harris, Costello and Kincaid, are already quite well known.
Though the majority of the book deals with the Peninsular war, Urban devotes one chapter to the Waterloo campaign. However the description of 1/95th's participation in the battle ends abruptly on the 95th's withdrawal from the Sandpit.
The book includes 16 pages of colour plates. Some of the plates are reproductions of antique maps of the actions described in the text. However, the maps are so small that it's virtually impossible to make out the relevant details.
This book is very well written; the descriptions of the loading and firing process are very useful, as are the explanations of the Rifles' battle tactics and the plate showing the various firing positions. All in all, a book well worth the read.


Karl Bleibtreu

No ISBN number

As this is an original edition from 1902, there is no ISBN number. I have however seen facsimile editions available online, but have no idea whether these are good quality reproductions. It's worth mentioning that the original is in "Fraktur" script (old-style German script), so the facsimile editions may well also be in Fraktur.

The author, Karl Bleibtreu ,was the son of Georg Bleibtreu, an accomplished painter of historical battle scenes during the second half of the nineteenth century. Karl's historical works bear similarities to his father's paintings, in that they attempt to capture not just the facts but also the atmosphere of the battles, employing a literary style which mimics the grand sweep of an artist's brush.

This book is something between a straightforward history and a novel. It relates the story of the battle in a dramatic fashion: - while the events themselves are accurately recorded, they are interspersed with fictitious conversations between various characters at the scene. As each character enters the story, their appearance is described, including minute details of the uniform worn.

On occasion the author interrupts the "story" to provide background information on the characters or events mentioned in the narrative. The text in these sections is slightly smaller than that of the narrative; the resulting effect is similar to the use of sidebars today.

The text is accompanied by a number of black-and-white illustrations by Eduard Thoeny. These illustrations have no captions, but are obviously meant to represent events described in the text.

Although purists will avoid this book because it mixes fact and fiction, the author's approach helps to give a better understanding of the battle, by placing the reader in the midst of the action at the villages of Aspern and Essling as well as at Napoleon's field headquarters near the brick kilns.

For the non-purists, who are prepared to take the trouble to work through the Fraktal script, the book is a rewarding contrast to the purely factual accounts of the battle which abound in various languages. Unfortunately Bleibtreu's technique has not been widely adopted; although there is no shortage of historical novels based on the Napoleonic era, the focus of these novels is always fictional characters. Bleibtreu's achievement lies in isolating in the reader's mind the factual events from the fictional dialogue.

Mark Urban

This book discusses the influence of various British military leaders (the "generals" of the title; in fact in many cases they were higher-ranked) on the evolution of military strategy or organisation over the last few centuries. Each general's story is allotted roughly thirty pages, which as can be imagined is only sufficient to outline their careers and the military background of the period.

Each chapter starts with an anecdote from the earlier life of the general under discussion, either a lesson learned or an early indication of the individual's talent. It then describes in more detail the main achievement for which the individual is included in the book, and finally a brief summing up of that contribution.

In the case of the first of the two generals from the Napoleonic era - Prince Frederick, the Duke of York - the reader first encounters him choreographing the servants of Kew House in recreations of battles from the Seven Years War. His main achievement is the reform and reorganisation of the British army after the failure of the Flanders Campaign.

Of course the other Napoleonic-era general is Arthur Wellesley, the Duke of Wellington, whose story begins with an account the battle of Assaye. Wellington's contribution follows on from that of the Duke of York, in that his masterful use of the newly reformed and reorganised British Army earned it a reputation for professionalism which still exists two centuries later.

The relevant illustrations are Hoppner's portrait of the Duke of York in the uniform of Colonel of the Coldstream Guards and Lawrence's well-known portrait of the Duke of Wellington in 1814, as well as a painting showing Horse Guards - the headquarter of the British Army at the time - and a painting of the Battle of Waterloo. The relevant maps are of the Duke of York's Battleground 1793 to 1799 (i.e. the area of the French fortresses in Northern France and the allied fortresses in the Austrian Netherlands), as well as of the Battles of Assaye, Bussaco, Salamanca and Waterloo.

Readers who have already studied a particular era will not find much or any new information in this book. However, those interested in general (no pun intended) military history will find this book worth reading; it may eveninspire some readers to study in more detail one or other of the periods discussed.

Sir Charles Oman

ISBN: 978-1853676178

For general comments about this series, see the review of Volume VII.

This volume is subtitled "Ocaña, Cadiz, Bussaco, Torres Vedras", which will indicate to those with some previous knowledge of the Peninsular War that it includes Masséna's advance into Portugal and Wellington's withdrawal to the lines of Torres Vedras. The greater part of the period covered was actually taken up by the preliminaries to the French campaign. Even though, when the campaign eventually began in earnest, the British withdrawal was rapid, the subsequent French retreat from Torres Vedras marked the turning point in the conflict. As Oman states in the preface, "the retreat that began at Sobral on the night of Nov. 14, 1810, was to end at Toulouse on April 11, 1814."

As usual, Oman also discusses the other areas of conflict within the Peninsula, not just those under Wellington's direct control. Soult's conquest of Andalusia, the entrenchment of the remnants of the Spanish armies within Cadiz as well as Suchet's and Augereau's operations in Aragon, Valencia and Catalonia are all described in detail.

The book includes 15 appendices, most of which give the order of battle and casualty figures for the larger actions. Most interesting. though, is Appendix XI, which reproduces Masséna's orders for Bussaco (in French). There are 15 maps and plans of the region or battle under discussion in the text, as well as five black and white illustrations - portraits of Wellington and Masséna, plates showing uniforms of Spanish Infantry in 1808 and 1810, as well as photographs of coins used in the Peninsula between 1808 and 1814.

Andrew Roberts

ISBN: 978-1842127407

Mark Urban

ISBN: 978-0571205387

Osprey Men-At-Arms 456

Ronald Pawly

ISBN: 978-1-84603-449-7

Philip Dwyer

ISBN: 978-0747566779

Sir Charles Oman

ISBN: 978-185367672

ISBN: 978-1-84415260-5

ISBN: 978-1-84603-257-8

ISBN: 978-1-84176-508-2

ISBN: 978-1-85367-663-5

ISBN: 978-0-099-45898-2

ISBN: 1-85375-222-3

ISBN: 1-84415-279-0

ISBN: 978-1-85532-210-3

ISBN: 0-85045-535-9

ISBN: 0-85045-534-0

ISBN: 978-3-87134-561-6

ISBN: 978-1-906-35304-9

ISBN: 0-349-11588-5

ISBN: 0-85059-178-3

ISBN: 1-84176-460-4

Paddy Griffith

ISBN: 978-1-84603-278-3

F.N. Maude

ISBN: 1-84677-235-4

Christopher Duffy

ISBN: 0-304-35278-0

Osprey Men-at Arms 122

Otto von Pivka

ISBN: 0-85045-431-X

Peter Hofschröer

ISBN: 1-84415-176-X

Dr. Friedrich Richter

ISBN: 3-939102-96-2

Gregory Fremont-Barnes

ISBN: 978-1-84176-283-8

General Count Philippe de Ségur

ISBN: 1-845-88-005-6

Philip Haythornthwaite

ISBN: 978-1-84603-222-6

Peter Hofschröer

ISBN: 1-84415-168-9