Links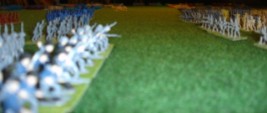 Review sites:
Manufacturers:
Barcelona Universal Models (B.U.M.)
Sergent Arny (resin figures) (via Lancier Bleu)
Speira Miniatures (3D-printed resin figures)
YKREOL (French language only)
Other Sites of Interest:
I have used Steven Thomas' website as one of the sources for information on the organisation of Spanish regular and irregular forces.
This diorama of part of the battle of Leipzig uses metal figures, but is of interest for the incredible realism of the diorama
A very interesting site, which covers an enormous range of antique and collectable "toys" - not just those made of tin. Although it doesn't include a specific section on plastic model soldiers, there is an excellent e-bay search function, which allows to rapidly search numerous national e-bay sites.
Dedicated to an excellent model of the battle for the fleches.
A companion site to Borodino 1812, this site is dedicated to a second model, this time the battle for the Rayevsky Redoubt.
A blog showing some brilliantly painted figures in 1/72 and 28mm.
www.minisoldiers.de
A project to paint each figure pose in every set that has been released