1/72 Scale Plastic Napoleonic Figures
This website is intended as a resource for people interested in 1/72 scale plastic figures representing the armies which took part in the Napoleonic Wars. It includes information which I was unable to find anywhere else on the Internet, and which may be of interest to collectors, wargamers or diorama builders.
This site deliberately does not include many photos of figures; since there are already a number of sites in existence, which have excellent photos of all the figures mentioned, I am instead dedicating my time to compiling information about how those figures can be used. It is therefore recommended that while viewing this site, you have another internet browser session open, which can be used to view the actual figures on one of the review sites.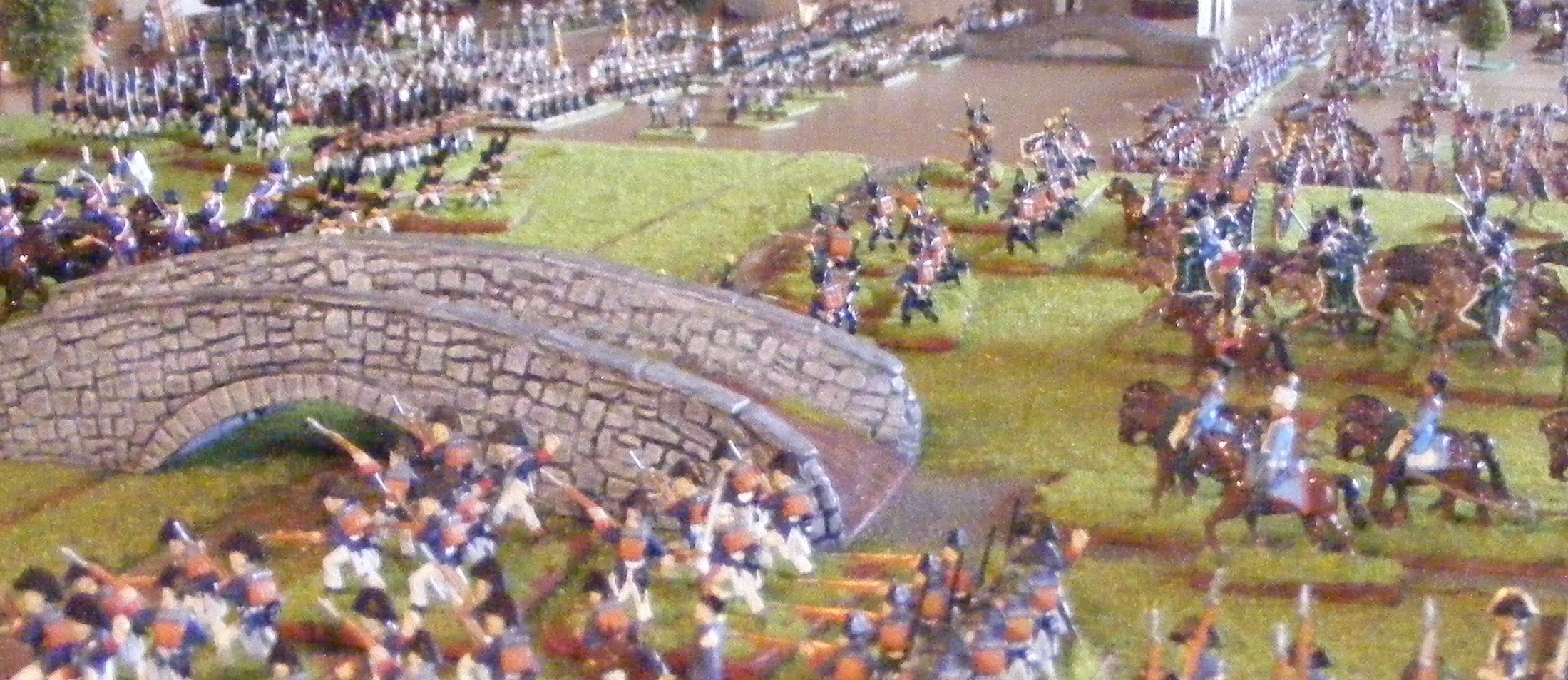 Latest Updates to this site
08.12.17
Planned Sets:
Added two HäT sets, 8311 Napoleonic Naval Cannon and Crew and 8325 British Marines and Fighting Sailors, which will however just be a reissue of set 8098 "British Marines and Sailors" in two parts.
07.12.17
Sets Listed by Manufacturer:
Added Strelets sets 162 British Infanty Standing at Ease and 163 Highlanders Standing at Ease, which have just been released.
Removed these sets from the Planned Sets page.
11.10.17
Book Reviews:
Added a review of Man of War - The Fighting Life of Admiral James Saumarez.
01.10.17
Sets Listed by Manufacturer:
Added Waterloo 1815 set AP041 Napoleonic French Foot Dragoons, which is in the process of being released.
Removed this set from the Planned Sets page.
25.09.17
Planned Sets:
A photo of two new Strelets master figures, probably of French Imperial Guard grenadiers in greatcoats, has been posted on the Strelets forum. No set number or name has been made known yet, so I have listed the set temporarily as French Imperial Guard Grenadiers in Greatcoats.
07.09.17
Book Reviews:
Added a review of The Forgotten War Against Napoleon - Conflict in the Mediterranean 1793-1815.
31.08.17
Planned Sets:
HäT have confirmed the set numbers for their upcoming Prussian Landwehr sets, which are being produced as part of a crowdfunding project: 8309 Prussian Landwehr Marching and 8310 Prussian Landwehr Action.
30.08.17
Book Reviews:
Added a review of The Battle of Waterloo - A Series of Accounts by a Near Observer.
07.07.17
Planned Sets:
Strelets have confirmed that the master figure of a highlander officer, which they posted on their forum two weeks ago, will belong to Set 163 Highlanders Standing at Ease.
29.06.17
Sets Listed by Manufacturer:
Added another Barcelona Universal Models set that I have just become aware of: BUM 7100 Russian Artillery & 1812 Ruined House.