1/72 Scale Plastic Napoleonic Figures
This website is intended as a resource for people interested in 1/72 scale plastic figures representing the armies which took part in the Napoleonic Wars. It includes information which I was unable to find anywhere else on the Internet, and which may be of interest to collectors, wargamers or diorama builders.
This site deliberately does not include many photos of figures; since there are already a number of sites in existence, which have excellent photos of all the figures mentioned, I am instead dedicating my time to compiling information about how those figures can be used. It is therefore recommended that while viewing this site, you have another internet browser session open, which can be used to view the actual figures on one of the review sites.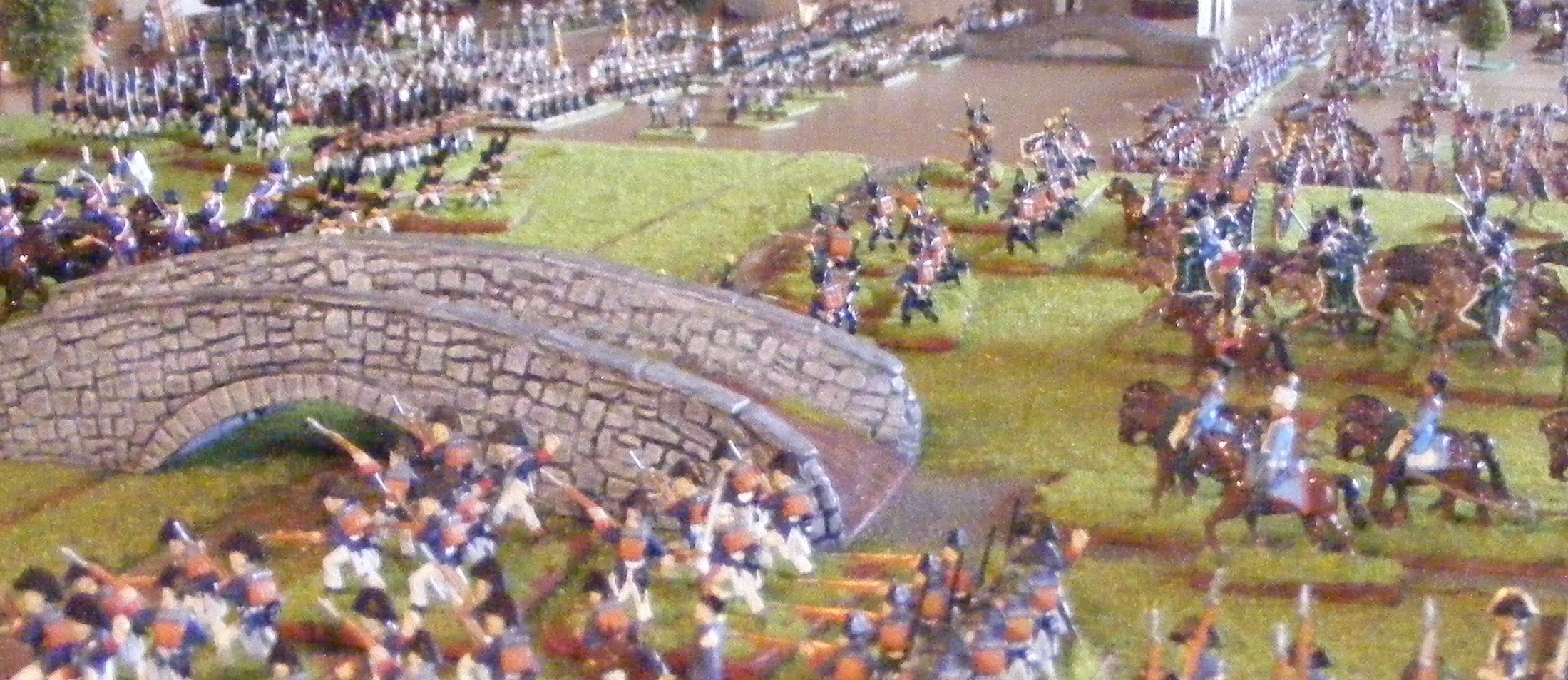 Latest Updates to this site
18.05.17
Planned Sets:
Strelets have revealed that the planned British Infantry set, for which photos of four master figures had been posted in April, will be designated as set 162 British Infantry Standing at Ease. They have also posted photos on their forum of a further eight master figures.

20.04.17
Planned Sets:
Added two Strelets sets, for which photos of four master figures each have been posted on the Strelets forum. No set numbers or names have been made known yet: Strelets unnamed set, British Infantry and Strelets unnamed set, Prussian Landwehr.

15.03.17
Book Reviews:
Added a review of The Late Lord - The Life of John Pitt, 2nd Earl of Chatham.
16.02.17
Uniforms & Organisation:
Added a link to my translation of the seventh issue of Depesche magazine, which has just been posted on the "Napoleon Series" website.
07.02.17
Added photos of the contents of Waterloo 1815 set AP056 French Line Infantry 1815, which I haven't yet seen posted anywhere else.
31.01.17
Sets Listed by Manufacturer:
Added Waterloo 1815 set AP056 French Line Infantry 1815, which is now being listed by some online retailers.
Removed this set from the Planned Sets page.
27.01.17
Planned Sets:
Added Waterloo 1815 AP041 Napoleonic French Foot Dragoons.

19.01.17
Sets Listed by Manufacturer:
Added some more Barcelona Universal Models sets that I have just become aware of, though they seem to have been around for a few years already: BUM 72943 Spanish Army, BUM 72944 Battle of Austerlitz, BUM 72945 Quatre Bras Battle and BUM 72946 Waterloo French British Armies. The contents seem to consist mainly of copies of figures from other sets.

13.01.17
Sets Listed by Manufacturer:
Added a list of Arkhipelag sets, although most of the figures look to be copies of either Esci or Italeri figures: 3 British Artillery, 15 Waterloo French Imperial Guard, 16 Austrian Infantry, 25 French Cuirassiers, 27 British Cavalry, and 29 Russian Grenadiers.

08.01.17
Planned Sets:
Added Strelets 143 Polish Artillery, which Strelets have now confirmed will be for the Napoleonic era.