1/72 Scale Plastic Napoleonic Figures
This website is intended as a resource for people interested in 1/72 scale plastic figures representing the armies which took part in the Napoleonic Wars. It includes information which I was unable to find anywhere else on the Internet, and which may be of interest to collectors, wargamers or diorama builders.
This site deliberately does not include many photos of figures; since there are already a number of sites in existence, which have excellent photos of all the figures mentioned, I am instead dedicating my time to compiling information about how those figures can be used. It is therefore recommended that while viewing this site, you have another internet browser session open, which can be used to view the actual figures on one of the review sites.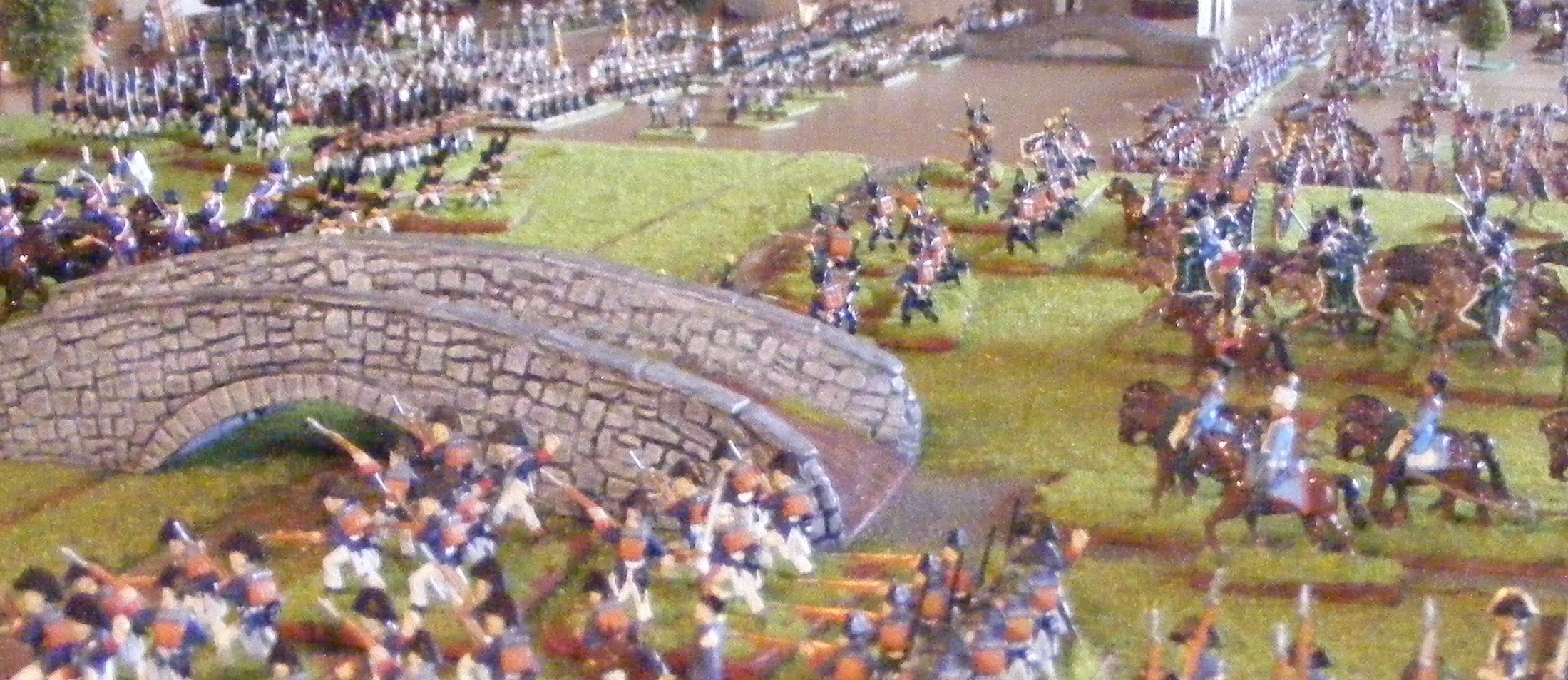 Latest Updates to this site
11.06.19
HäT have published some pictures on their website, which they claim will be limited edition box art for some upcoming set re-releases. Let's hope that they follow through with the idea, because the box art really would be unique in the hobby.
The box art is linked below (these links lead directly to the HäT website):
HäT 8197 Napoleonic Prussian Hussars
HäT 8300 Napoleonic Spanish Light Infantry
HäT 8301 Napoleonic Spanish Grenadiers
HäT 8302 Napoleonic Spanish Line Infantry

The same applies to the HäT 8330 Napoleonic Spanish Infantry Sampler set, which strictly speaking is not a re-release, though it will contain single sprues from sets which have previously been released.
26.05.19
Planned Sets:
On their forum, Strelets have posted photos of two master figures, which look to be a Russian general and a Brunswick Infantry pioneer, both standing at ease. Until they are further identified, I have linked the photos of these master figures under the Strelets Unnamed Sets / Unidentified Figures heading.
25.05.19
Planned Sets:
Strelets have "announced" (by the unusual means of referring visitors to their forum to check out the list of future releases on the Hannants website) a couple of new planned sets: Strelets 225 French Line Infantry at Ease Winter Dress (Flanking Companies) and Strelets 180 Prussian Infantry Standing Shoulder Arms. According to the side panel of another Strelets set, Strelets 180 was to be French Line Infantry in Attack, so the set number of that set is now unknown.
Also included in Hannants' list is a set which was already announced, but which now has had the title updated: Strelets 173 French Line Infantry on the March 1 (Flanking Companies).
19.05.19
Book Reviews:
Added a review of Walking Waterloo - A Guide.
03.05.19
Planned Sets:
HäT have started polling readers on their forum about designs for Austrian Infantry in Hungarian uniform. The set numbers are now known, but the exact title of the sets hasn't yet been revealed. The assigned set numbers are HäT 8334 Napoleonic (Hungarian-) Austrians Marching and HäT 8335 Napoleonic (Hungarian-) Austrians Action.
01.05.19
Upcoming Events:
Although not really an event in the usual sense of the word, Pen and Sword have announced that on 5th May, to mark the anniversary of Napoleon's death, they will give away four eBooks.
29.04.19
Book Reviews:
Added a review of The Flintlock Musket - Brown Bess and Charleville 1715-1865.
11.04.19
Sets Listed by Manufacturer:
Added HäT set 8329 Napoleonic Prussian Infantry Sampler, which however contains no new figures, just a sprue each from previously released HäT sets 8253 Napoleonic Prussian Infantry (Marching), 8254 Napoleonic Prussian Infantry (Action) and 8255 Napoleonic Prussian Infantry (Command).

Planned Sets:
Added HäT set 8330 Napoleonic Spanish Sampler, which will presumably also be a mixture of sprues from previously released sets.
10.04.19
Planned Sets:
Strelets have posted photos on their website of the full set of master figures for Strelets 220 French Line Infantry on the March 2 and Strelets 223 French Line Infantry in Overcoats at Ease.
30.03.19
Planned Sets:
On their website, Strelets have posted photos of the full set of master figures for Strelets 206 Austrian Grenadiers Winter Shoulder Arms.